News
Knowledge management
Posted: 31/05/2022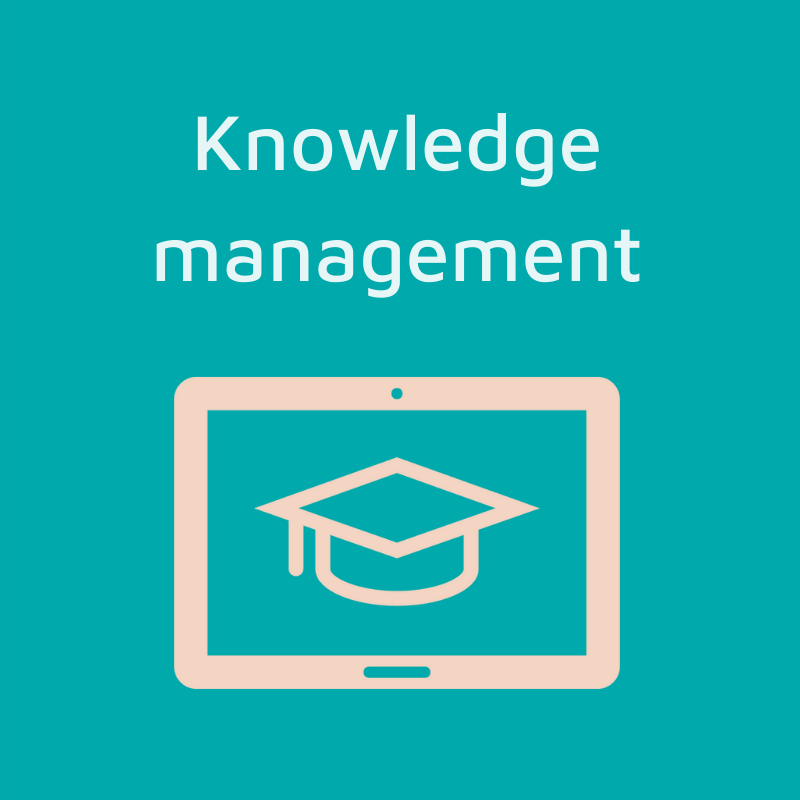 By Rolla Khadduri, Yoko Akachi and Charlie Covington [1]
Knowledge management is increasingly included as an integral part of development programmes. For too long, it was seen as an add-on, a luxury after-thought (if thought of at all). We have recently been commissioned by some foresightful partners to facilitate and manage knowledge. We have also integrated knowledge management across all the funds that MannionDaniels manages.
So what is knowledge management, and why is it important? We reflected on this together recently at a panel discussion with partners.
Knowledge management is the process of identifying key information along common themes/structures, then packaging it in compelling forms so it can be disseminated to the right audience. It requires a reflective approach, a safe space to enquire and ability to tap into tacit knowledge – that which is informally known. It is also often backed by research and/or informs policy.
Knowledge management supports social movements for change
Connecting groups helps to develop common agendas and learn from one another. Not everyone has to agree, but the sign of a strong movement is one that accepts the sharing of views along a common goal.
We have created communities of practice around themes – for example, a WhatsApp group of AmplifyChange civil society partners who advocate for the sexual and reproductive health and rights (SRHR) of people living with disabilities. Together, they share experiences of what works, and what doesn't. They formulate common responses to policy opportunities. They discuss practical issues, like how much to pay a sign-language interpreter across East African countries.
Curating this type of knowledge management requires some initial organisation, with thought focused on how to ensure its authentic voice and sustainability. For example, with the WhatsApp groups, the grantees themselves monitor and contribute to the conversation, see the added value, and maintain it.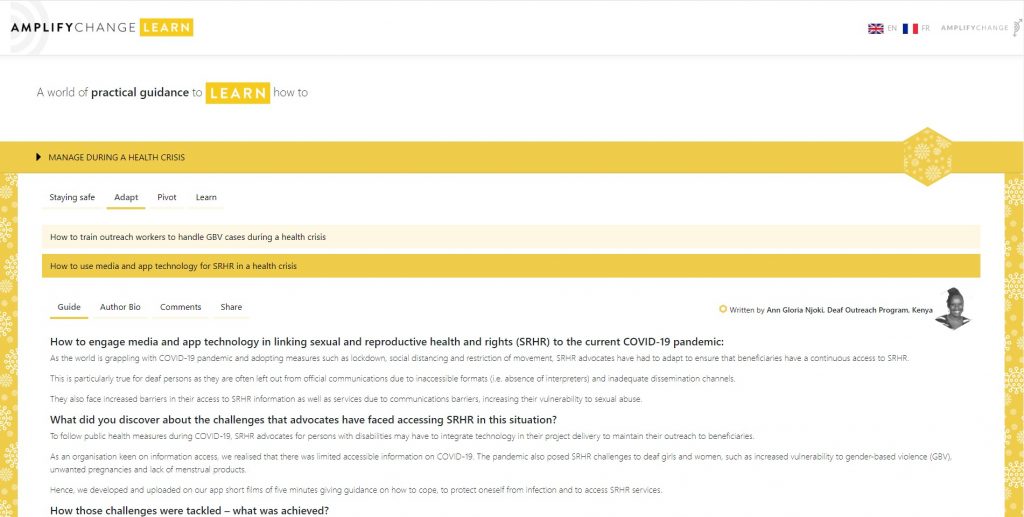 AmplifyChangeLearn provides over 90 SRHR 'How-to' guides written in bitesize, low bandwidth formats by civil society organisations. 
Supporting a movement should also entail making learning accessible for all. Knowledge sharing promotes equity as everyone can have access to information and benefit from it.
We have created AmplifyChangeLearn.org – a learning platform designed and used by civil society organisations working to improve SRHR. It comprises nearly 90 'How-to' guides in English and French, relaying information in bitesize and low-bandwidth formats to make it accessible. The topics - ranging from organisational strengthening, to advocacy, to how to cope in a health crisis - are selected by civil society organisations (CSOs) and the majority are written by CSOs themselves. Since launching in 2018, 12,000 people from 166 countries have visited the learning platform.
Knowledge management is important to link and learn
Researchers and civil society often work in silo from each other and from policy-makers. Their work serves different audiences, even though they are talking about the same issues. In a recent exercise with the Regional Education Learning Initiative (RELI) and the Population Council Kenya, we worked with civil society partners to reflect on their experiences of managing education programmes during Covid-19. We brought them together to discuss common findings and supported them to prioritise and forge options for moving forward with learning adjustments. We then included policy-makers - government representatives from Kenya, Tanzania and Uganda – as an active participant of this learning.
Convenings need to be curated carefully. In another instance, we brought together researchers on youth and SRHR in Jordan with youth themselves, civil societies, service providers, various Ministries, and donors in March 2020 under the auspices of NWO-WOTRO, who had supported the research. There was honest dialogue about sensitive issues, and the result was a widely-accepted and fully-owned policy brief by government on SRHR.
With our partners at the Orchid Project, we have been bringing together grantees that we support to advocate for ending female genital mutilation/cutting. These civil society partners are from various countries and vary in size and focus but their aim is common. Creating safe spaces for interaction and exchange ensures that they can learn from each other. Solidarity is also a key output of knowledge exchange, and this empowers individuals and organisations that work on sensitive issues like SRHR.
Knowledge management is important for adaptive management
Contexts change, and outcomes cannot be predicted. Ensuring safe spaces for evidence to be shared means programmes can be responsive and flex according to need.
Across the UK Aid Direct and UK Aid Match funds that we manage, we collect a variety of data for project monitoring and impact reporting. We also wanted to use data to improve fund performance. We realised that we could benefit even more from the data we collected. So we created a series of digital dashboards to turn our raw project data into striking visualisations. These allowed us and our partners to reflect better on the data and adapt our work.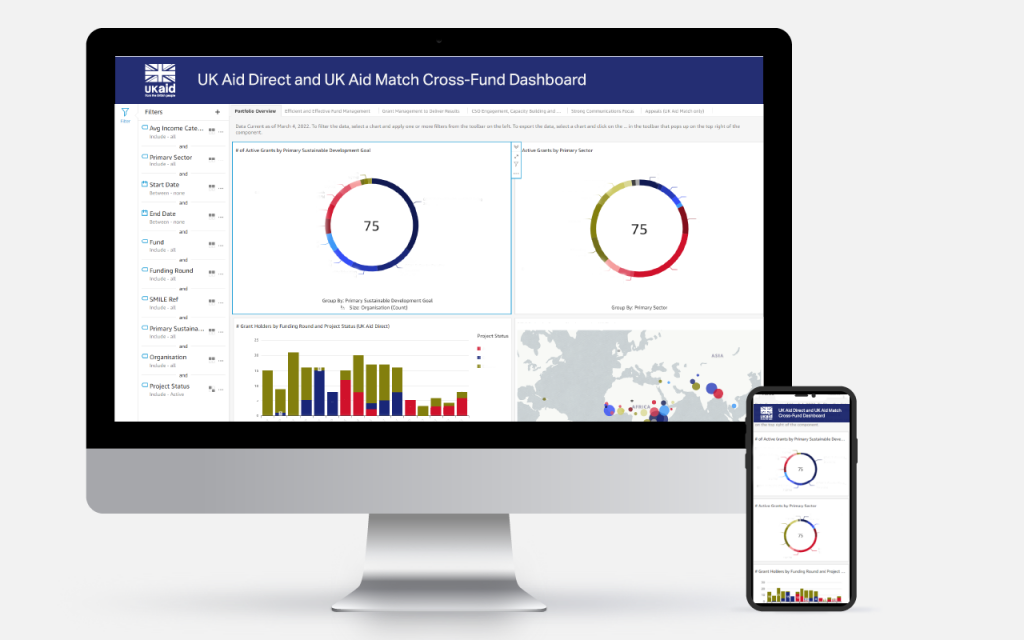 Digital dashboards turn our raw project data on UK Aid Direct and UK Aid Match into striking visualisations, allowing us and our partners to reflect better on the data and adapt our work.
Conclusion
There is strength in sharing, and there is benefit in reflection. Deadlines loom and outcomes have to be achieved. But only when we step back and take stock of learnings, only when we connect people in linking and learning exercises, and only when we consider evidence in a structured way, can programmes be truly successful and progress the development agenda.
Knowledge management adds value and positive outcomes to any programme.
-
[1] Yoko Akachi, independent consultant.
Rolla Khadduri, Head - Gender and Social Development, MannionDaniels.
Charlie Covington, Communications Manager, MannionDaniels.